Hello y'all. It's been a while since I've updated this, very naughty i know but accept my apologies. Been working on 3 projects this term, two sketchbooks and a group project. For our group project we had to make the opening credits to a yet to be made tv series called 'Formation'. Essentially about an apocalypse brought about by disease ridden flies. We were a little slow off of the bat but we've been doing our share, along with helping out at the fashion show (though my personal physical input on that went largely unused but there you go).
Here are the earliest animatics that were made for our 1st week presentation. The main thing I wanted to showcase with this was the idea of having the text break up into flies. (obviously ignore the font and colour balancing)
For the most part I was working with Tom creating the final shot of our opening credits. Here is an early render, however aside from some slight syncing issues this video was a good 15 seconds longer than our entire allowance so some more work was needed.
Here is a fixed an re-vamped render that only took 16 seconds and had some enhancements. Tom made the animation of the fly itself and came up with the concept for this video, my input aside from rejigging the background images and adding effects was the swarm of flies that strip away the title at the end. An effect that I think I pulled of quite well in the end. (well you try animating 14,000 individual flies....)
This was blood designed for a shot with the fly at the beginning to highlight the whole "diseased flies thing-a-ma-ling". The idea we had in mind was to do a whole House/csi 'Medical Zoom' to show the virus living within the fly. (Much thanks again to vidocopilot.com for another invaluable tutorial that helped make this look great. The video was made by creating a 'cell' in a 3d program and linking it up to a particle generator within after effects. and the skin in the background was also made within after effects despite looking 3d (sneaky).
A slightly modded blood shot. For some reason the green cells wouldnt stop flying around quite so violently, but due to time constraints I wasn't able to tinker witj it anymore.
This is a house/csi style shot that unfortunately didnt make it to the final render due to time issues but here it is anyway
I would have liked a slightly longer animatic of a fly to work with here, as you dont get the full effect and the zoom in is too fast to see the nice skin graft I did, but oh well.
Here is the penultimate render of the whole thing, Looks pretty good to me and is a nice balance of each group members talents.
These are images that were designed to be used as still side images in the comic theme that our animation was taking. I wanted to use a range of locations as this was meant to be a worldwide thing and we were specifically asked to not to centre it around america. Some of these are manipulated stock images others are photos i took in and around london. I started with finding some good stock images and then I made several types of smoke and explosions within photoshop that I could easily drop into the images, meaning I didnt have to individually craft each image. While this may seem lazy, these images were only ever intended to fill in 'empty' comic panels that surrounded the animated panels, and so would be on screen for less than a second.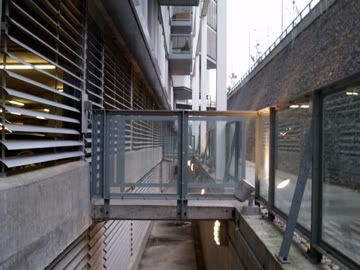 There are some others but they have been lost into my computer somewhere and i'm fairly sure they werent used in the end.
The group initially consisted of myself and Brian, and from an early stage we decided that we wanted to do a very graphical style piece. We also decided that since After Effects was a program we were both proficient in, that it should be our main animation tool. Our initial idea was to have lots of various destroyed and abandoned buildings to convey the apocalyptic sense of the 'FORMATION' plotline. By the second week we had gained Tom and Thomas and I had been named Director. We met as a group and tried to get a sense of what each of us wanted to put into the piece and decided that a comic-book style would be the best way to use our various styles. The text I used to demonstrate this point was '2000 AD' a comic synonymous with utilising several distinct styles per issue. The shots that each of us wanted to incorporate included a 'House'-style zoom into a fly to show the infected blood and highlight the virus without having to spoon-feed the audience, a shot of a crowd of people trying to outrun a swarm, an homage to 'Spiderman' (film) having a fly in place of Spidey for an ironic twist and I wanted to have the FORMATION logo break apart into a swarm of flies. With these ideas in mind we left to try and create what we could, Thomas then went about creating a plethora of concept art, potential logos and even a Facebook page that we could use to upload and show bits of work that we had done. And I started work on trying to create or find an effect that would at the very least mimic the fly-swarm text idea. My first attempt at this was a pretty lame attempt using the pixel-polly effect in After Effects. Progress was somewhat slow over the next week or two as several group members, including myself, had bouts of illness and had to travel away from Falmouth on various business, which led to a bit of a breakdown in communication. However, after a flurry of emails and phonecalls we were back on track. By this time Tom had begun creating some awesome fly animatics in Flash, which meant me and Brian could begin putting stuff through after effects and begin turning our animatic into something that we could be proud of. It was at this point that I began creating a series of images that were never going to be animated but were going to fill the panels surrounding our animations. I did this using Photoshop to create several types of explosion and different types of smoke. I then proceeded to drop these into various collected stock images and applied several blurs and filters in order to create a more comic-book feel. I was largely happy with the results, admittedly if you looked closely you could see some of the joining lines, but since they were never going to be the focus of what was onscreen, or indeed on screen for much longer than a second, I figured I could probably get away with it. I then collected some more images that just had a grim desolate feel, since the whole point was that the population of earth had been largely wiped out over-night, it made sense that they wouldn't have had time to destroy every building in the world. As the project continued we decided to do our own music and in order to give Brian enough time to do that as well as format the final result I decided to take on the medical-zoom shot as well. I started by finding a 3D render of a blood cell and of a diseased cell from the internet and then put it into after effects. By using trapcode particular I was able to create a bloodstream as well as and additional, more dispersed and erratic acting stream of diseased blood within it. I also did some work on having the camera zoom into the fly to the bloodstream, as was our initial idea. Unfortunately the animatic I was given to work with on this was only 5 frames long, unfortunate since it was another of Thomas' lovingly crafted fly drawings. I did my best to bulk it out a bit in flash but I could only stretch it out to about three quarters of a second before it started to look too clunky and by this point we were getting a bit strapped for time. So I decided to just work with what I had and hope that zooming into a still frame of a fly would look as impressive. I tinkered around with various macro-shots of skin to try and create a close-up bit of flesh on the fly for our camera to zoom through. I did this relatively successfully, but because the fly clip was so short this went became invisible in the rendered version. And by now I had finished the end shot, which even after editing came to a whopping sixteen seconds, so I knew I didn't have much space to try and bulk this out. In the end it was just the render of the blood that got used which I was happy with. The main piece of work that I did was the end scene in which a fly flew off a flagpole and into the screen with the word "FORMATION" and our logo appearing at the end. I worked closely to the animatic created by Tom for this, the major changes being making the city London and changing the American flag to a Union flag. I then set about adding in blurs and effects such as a rippling flag to make the whole thing a little bit shinier. To create the swarm I used several layers of particles with various settings to try and create the sense of a pulsating mass of flies. Unfortunately I couldn't come up with a way of making the text itself turn into flies (aside from animating fourteen thousand individual pieces of text and logo,) so instead I opted for a large swarm appearing and taking the words with them as they filled the screen. I did several renders of this to get as much feedback as I could from Tom, as this was his initial idea. After several tinkers, and a long session of micro editing to try and get it down from forty seconds to around fifteen. When these were finished I sent them to Brian to be mashed together with the rest of our stuff. I think that Brian did a fantastic job putting the end product together, my only negative comment being that I wished he had found a better way to create the swarm of flies that chases a crowd of people using some kind of particle system. But having heard the entire render time of this project I'm not sure we would actually have had time to render it out.
Will upload sketchbook pictures on thursday.